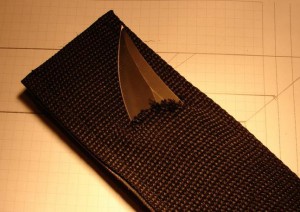 Sheaths are also used for knives, daggers, swords and other weapons like handguns and pistols. think in the relaxation atmosphere of buscrafters and survivalists whereby the knife a very important place takes of the gear. A knife never may get lost, damaged or wound the carrier. When you buy a knife, for example a Bowie or a buscraft knife it happens that the sheath that comes with the knife is of poor quality or even lives dangerously! With custom made leather sheaths made of 3,5 mil vegetanned cowhide you will not have this problem anymore.
High quality handmade pancake holster and magazine holder of 3,5 mil.cowhide for BB gun and provide with a retentionstrap and belt holes. Total thickness is about 7 mil. and hoster and magazine holder are double stitched. Dyed dark brown.
Bushcraft sheath for Pakistan game hunter. Made of 3,5 mil. vegetable tanned cowhide. The sheath is wet formed so the knife doesn´t fall out. Complete with firesteelloop. Belt system for horizontal use on a belt or backpack.